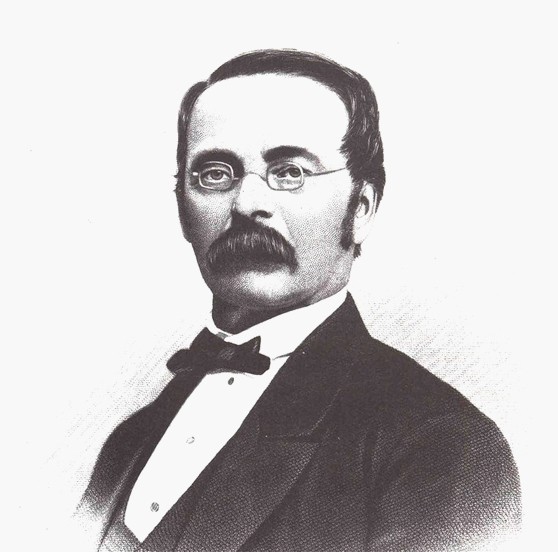 Henry E. Steinway
Constructing the best possible piano
Each piano is a work of art within itself and is the result of a three-year journey which begins by selecting and drying woods, and which ends with an artisanal manufacturing process lasting up to twelve months.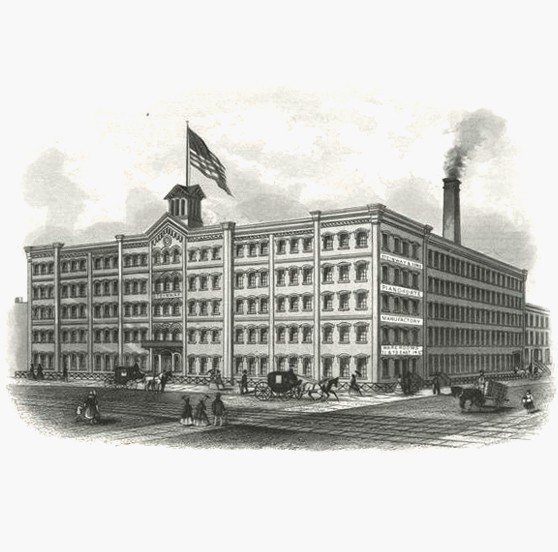 Henry E. Steinway
A commitment to quality
Success demands both perseverance and passion. Henry constructed his first model in the kitchen in 1836 because he only had a license to repair pianos and was not qualified to build them. The first piano known as the "Kitchen Piano" remains one of the most beautiful pianos in the world.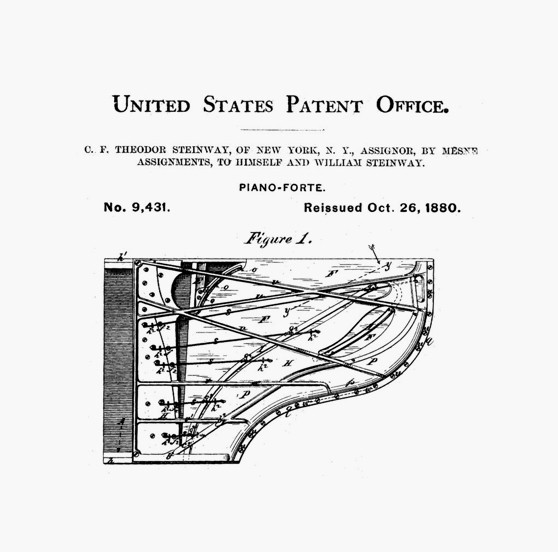 Henry E. Steinway
Always striving to improve
Each grand or wall piano is a work of craftsmanship and a work of art within itself. Each Steinway piano consisting of over 12,000 individual components has its own musical character and is just as unique as the person who plays it.
History
A legacy of innovation that lives on
1850
Precision from the outset
Heinrich Engelhard Steinweg managed to incorporate his own innovative ideas into the best European designs when constructing his first pianoforte. This legendary "kitchen piano" which is characterized by its meticulous design and its extraordinary dimensional precision was to set a benchmark for all future generation piano manufacturers. Just like the pianos themselves, these methods would pass from generation to generation to create pianos capable of withstanding the test of time.
1853
From "Steinweg" to "Steinway"
The journey of the family business headed in a new direction when Heinrich Steinweg and his family moved to America in search of a more favorable business environment which would allow them to follow their passion for innovation and total excellence. He founded the company Steinway & Sons with his children on 5th March 1853. From that point on, the stage that would see the company on its way was formally set with the objective of manufacturing the best possible piano, a commitment which is still being honored to this very day.
1855
A flagship piano
Steinway & Sons quickly made a name for themselves in America by laying down the essential foundations for constructing the modern piano. Steinway & Sons instruments received their first official recognition in 1855 thanks to the American Institute Trade Fair Prize, with this being the first in a long line of awards. Steinway & Sons has obtained over 125 patents since its first one was awarded in 1857 and this hails the Steinway piano as the flagship piano.
1880
Worldwide recognition
The demand to provide concert halls, colleges and specialist buyers around the world grew as the reputation and recognition of Steinway & Sons became further enhanced. C. F. Theodore Steinway opened a production plant in Hamburg to meet this demand. Nowadays, both factories maintain the level of excellence of Steinway pianos, which hold the undisputed number one raking in the global market.
The ring
The ring consists of up to 20 sheets of extremely solid maple wood and this forms the basis for excellence, stability and the quality of each Steinway grand piano.
The bridges
Its particular vertically laminated and hand assembled design ensure a long and resonant tone which gives rise to the unrivaled "Steinway sound".

The soundboard
The Steinway soundboard production is based on a 1936 patent for maximum performance across a dynamic range, sound transmission and the maximum content.
The harp
Steinway & Sons uses its own steel alloy to withhold the tension of over 20 tons of strings on its own construction and in order to reduce vibration.




Hinves Pianos is the official distributor of Steinway & Sons in Spain
And of the entire Steinway family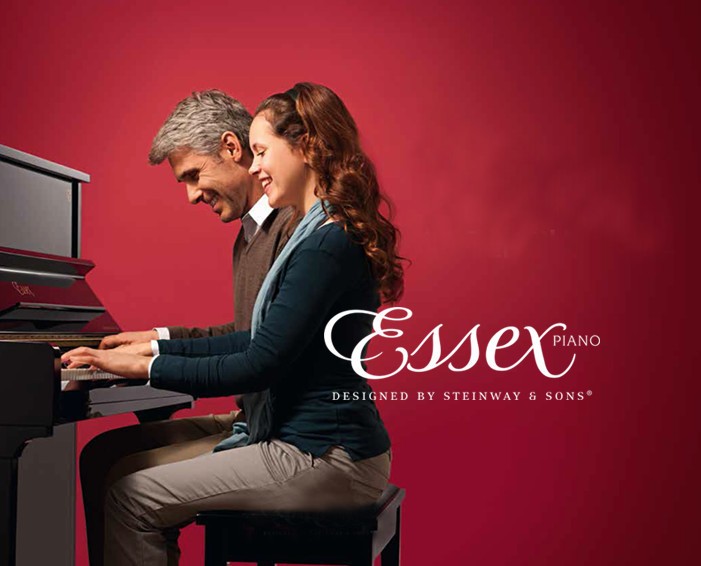 Grand and upright Essex pianos
Every starting point can be very simple: with upright and grand Essex "Designed by Steinway & Sons" pianos. Begin your musical journey with the Steinway family with unrivaled quality within this price category. Essex pianos take advantage of construction features, exclusive patents, and of Steinway & Sons development and engineering. Steinway technicians finish manufacturing each instrument in Hamburg, Germany, once it has been assembled in Asia. Has your sound already seduced you?
Essex dessigned by Steinway & Sons
Selected piano models should be available in all of the price categories. STEINWAY & SONS managed to turn this project into reality by introducing grand and upright ESSEX pianos which remain the advanced flagship pianos. Steinway mechanics, materials, engineering and its guarantee are at the forefront of every Essex piano.
Harmony in sound, manufacturing and price
Get inspired by the multiple design models if you have been surprised by the sound of an ESSEX instrument. The harmonic forms ranging from simple to romantic, the quality texture of the timber, or the deep shiny finish turn your ESSEX instrument into the crown jewel in your home. How would it look in pale walnut, elegant cherry or with a polished white or mahogany finish?
The Steinway promise, brand value
We can offer the "STEINWAY promise": we will deduct 100% of the purchase price towards an upgraded change in piano should you require a new STEINWAY within ten years, and this is because your ESSEX instrument could be the start of a real passion.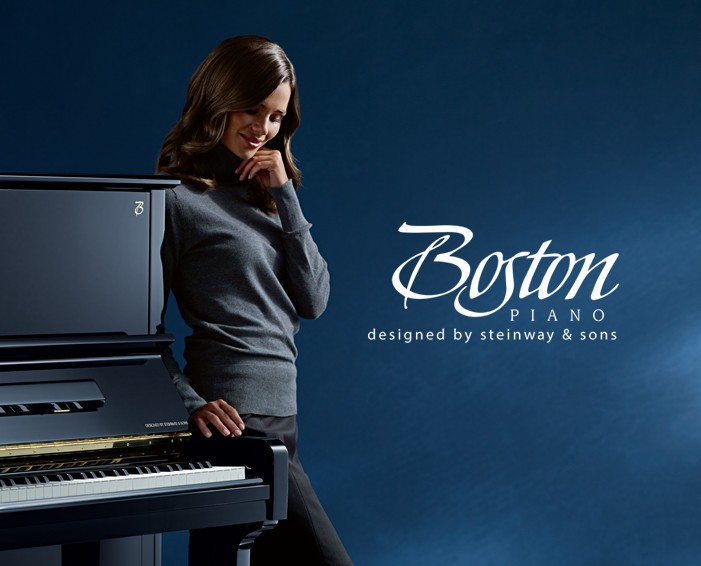 Boston grand and upright pianos
Definition. Precision. Elegance. A pianist will recognize his instrument whenever it allows him to express his musical development without the need for anything between his fingers and the music created from the surface. Experience the endless possibilities offered by this STEINWAY family instrument. It is not only music lovers and students, but also piano teachers and institutions with a modest budget who consider a BOSTON grand or upright piano to be an excellent choice.
Boston designed by Steinway & Sons
BOSTON grand and upright pianos are similar instruments in terms of their tuning features and their options within the middle price category, and this is because STEINWAY & SONS knowledge and progressive development are applied during the construction phase, for example, with the patented Octagrip™ peg box or the typical STEINWAY duplex scale. It is hardly surprising that the outstanding quality of a BOSTON piano is inspiring more and more music lovers, professionals and colleges around the world.
A striking sound
Only the sound of the BOSTON grand piano is able to demonstrate its sovereignty. Whoever listens to it is given the impression that a much larger instrument is being played. The large shape of both the resonance box and the soundboard allows a 178 cm BOSTON grand piano to have the typical upper surface of a 179 cm grand piano and people are able to appreciate this immediately once they start listening to it. Steinway is the architect of each Boston piano production. Steinway can provide assurance from selecting the materials through to the construction engineering phase and the guarantee.
Fine woods, elegant shapes
Its mechanical components, its acoustic bodywork and structure turn it into a piano which is superior to other instruments within the same price category. Each Boston piano soundboard is made from Sitka fir, the same wood incorporated into the Steinway piano: this fine material has extraordinary resonance properties. Its diaphragmatic soundboard allows it to vibrate much more easily. And the result? A complete and more sustained sound.
The Steinway promise
Owning a genuine Steinway is a dream which may come true should you choose a Boston grand or upright piano today. We will deduct 100% of the purchase price towards an upgraded change in piano should you require a new STEINWAY within ten years. We call this our own "Steinway Promise".
Check our models
Available now
Essex
A new range of instruments with a number of innovations which transform the piano developed by Steinway into something special.
Steinway & Sons
The Steinway is the instrument designed to be the cornerstone for a large number of piano lovers.
Boston
The journey begins by pressing one single key. Boston pianos, a new world of enhanced creativity.